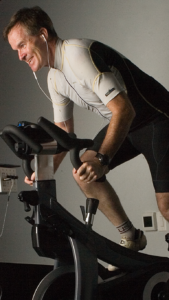 A few short years ago, Scott Corron suffered sudden cardiac arrest at a spin studio. His 12-year-old daughter was there. She was doing homework in the lobby. She was naturally frightened – she had no idea what was happening.
"There was my dad on the floor," she said. "I just, like, freaked out."
First responders were stuck in traffic but, as it happened, Mr. Corron was fortunate.
A physician assistant from Memorial Hermann Heart and Vascular Institute and a physician from Baylor College of Medicine and Texas Children's Hospital were in the same class. They knew CPR and kept blood circulating to his heart, brain, and other vital organs for 15 minutes before first responders arrived. The facility did not have an Automated External Defibrillator (AED).
Mr. Corron, who bikes 6,000 to 10,000 miles per year, regained a pulse after paramedics shocked his heart. "I think it's a miracle that God places people where they're supposed to be," he said.
That was 2016.
His first cardiac arrest was in 2009. He was biking in Memorial Park when suddenly …
"I hit the street and was essentially dead," he said.
First responders arrived, performed CPR, and used ice packs and cold saline to keep him alive and preserve brain function. The cooling process continued in the hospital.
"Not everyone is as lucky," Mr. Corron said. "I feel lucky, I feel blessed."
View More Survivor Stories
Share Your Survivor Story