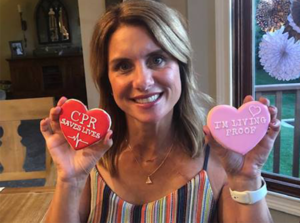 "I went into sudden cardiac arrest on the morning of Saturday, August 24, 2019. My husband was at work and I was home with my four children, Nate (9), Sam (11), Rose(14), and Eddie (15). I was in the kitchen making breakfast for my kids before our day of youth football began. Sam and Nate were outside playing, Rose was upstairs with her AirPods in her ears and could not hear much of anything going on in the house. Eddie was just waking up in our basement where he slept the night before having fallen asleep after playing online video games.
I called Sam and Nate in from outside to eat their breakfast. Shortly after, I collapsed in the kitchen. Once Eddie heard the panic and screams from Sam and Nate and our howling dog (who also had recognized there was an emergency) he ran upstairs. Unbeknownst to us, Eddie had been trained in CPR in his 7th grade health class, thanks to a grant from the American Heart Association. Eddie did exactly as he was taught, identified a cardiac emergency and began chest compressions as Sam was on the phone with 9-1-1. By now, Rose had come downstairs and called my husband and stayed by Eddie's side as he administered CPR. Nate ran to get a neighbor. The neighbor's son was home, visiting from Taiwan and is a former Army medic. He found my 15-year-old Eddie doing perfect chest compressions. Eddie was in a rhythm, powered by adrenaline and did not want to stop for the neighbor to take over. Eddie continued CPR for at least 6 minutes until the paramedics arrived finding me in v-fib. The paramedics continued CPR for 20 more minutes and administered 4 shocks along with meds before getting a pulse.
I am recovering well and am expected to make a full recovery. Eddie did all the right things. He recognized that my breathing was erratic and abnormal. He could see that I wasn't responsive. Eddie didn't wait, and he didn't hesitate to start CPR, because of a hands only CPR training his health teacher gave him. He didn't stop. He did more than many adults would have done. Especially the ones that are afraid they will hurt someone by doing CPR.
I want to share my story, inspire future bystanders … I know my story can help so many others."
View More Survivor Stories
Share Your Survivor Story